Katia's First Experience with Ayurvedic Doctor online in Spain – Dr. Dinu
Tell us more about yourself and why you chose Ayurveda Holistic Healthcare:
I am a Gen-Z baby, raised, and currently living in Barcelona, Spain, with my family. I love everything from fitness to cozying up on the couch and doing nothing. I was recently introduced to Ayurveda and ASHAexperience – the Ayurvedic Healing community, by a close friend after telling her about my never-ending tummy-bloating issues. I have suffered from painful bloating for many years and could not find a long-term solution until now. I found that ASHAexperience gives holistic healthcare solutions to every type of body imbalance and that fact quickly connected with me!
What inspired you to choose Dr. Dinu for your Ayurvedic Consultation?
After scrolling through the ASHAexperience website, I noticed that all the Ayurvedic Doctors practice in different countries and specialize in various body imbalances. Dr. Dinu is based in Spain and is known to treat digestive disorders, so ideally, I knew that this is where I should start, given he would understand my Spanish lifestyle the best and know about the local food ingredients in my country.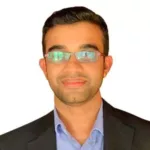 Dr. Dinu Raj
What was your first experience with the online Ayurvedic Doctor consultation at ASHAexperience?
Dr. Dinu took a full hour to get to know the ins and outs of my life. He focused not only on the foods I eat but also on my sleeping patterns, physical movements, stress levels, and more. With just a few details, he read my mind and body – it was as if he knew me for years! It didn't feel like a clinical interview because of how well the conversation flowed. At the end of my online consultation, he prescribed me natural remedies and habits to soothe my bloating.
Am glad to have connected with ASHAexperience for the best experience that I had with the virtual ayurvedic consultation from the comfort of my home.
Which ayurvedic practice have you started to incorporate in your daily life?
Here are some of the Ayurvedic practices that I love:
Water – drink 2 liters a day, in between my meals for my gut health
Moong Daal Crackers – for lighter digestion and high protein
Carbs – helped constipation troubles as well as bloating
Coffee – avoiding coffee an empty stomach for acidity
I have been doing these for 3 weeks now and I've never felt better! Can't wait for my follow-up ayurvedic consultation with ASHAexperience.
Discover more about our Ayurvedic Doctors with holistic healthcare solutions exclusively on our website www.ashaexperience.com/ayurvedic_doctors